Occasionally, I make something for my hubbie (He prefers me to use my time working on my own things, because we women require so much he says!) While working on a couple of T-Shirts for myself, I thought I'd add one in for him too. I know he loves anything "soft" on his back, (other than me of course...couldn't resist that!) like teeshirts and light sweaters.
When I saw this pattern from
Jalie 2918
, I knew it would be a winner!
I bought just the perfect fabric, my favorite of course for these types of tees...Rayon Lycra knit! It's light weight, oh so soft and cool too.
Since we're moving quickly into the fall season, I picked a beautiful Forest Green color which would go nicely with his beautiful silver hair (yep we're from the "baby boomer generation"and empty nesters (kids all grown), but who knew it would be this much fun!!!)
After reading the pattern instructions, I knew this would be easy, no Muslin needed and I was correct...it fit him perfectly!
He feel in love with this tee/sweater and now I have the perfect template to make many other styles from. It can be dressed up or down, it's very versatile. I know a lot of you create apparel for your mates too and this one is extremely quick and easy to make with great results. It's a winning pattern in my book and a great men's wardrobe builder!
Now, I needed a couple of T-Shirts I could wear to work, one in black and one in white. I chose two of the simplest patterns to work with and love the results on both. First up is an oldie but goodie, New Look 6149. I made view C the V-Neck in a black rayon lycra knit. This pattern has a great fit the first time, the only change was lengthening the top because I don't like them too short. I really love the neckline and the way the two-piece sleeve is sewn. It's a great T-Shirt or sweater if you prefer.
This next one was a super simple oldie too. Simplicity 5502, I made view C (pink one) with the cap sleeves.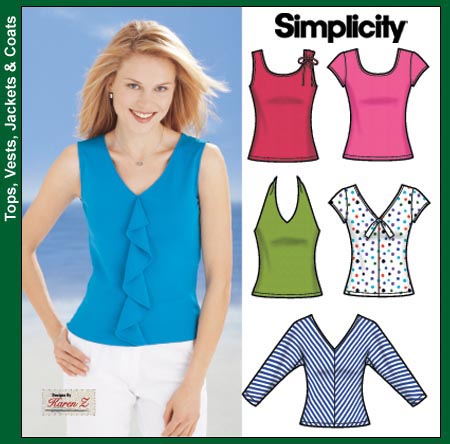 I purchased some Rayon Lycra from an online store called Spandex World, 3 yds of white and 3 yds of Chocolate Brown. I was so happy when I found this place because the fabric was a LOT cheaper and boy oh boy did I learn a lesson...it was cheaper because it was about half the weight of other Rayon knits I'd purchased before!! It was really thin!!! (I should have checked the weight, it was definitely posted...my bad!!) That's ok though, it still worked well for T-Shirts. I used some of the white to create a cute version of the pattern above with a little twist of my own. I added two ruffles along the side of the front...
I really like this version and plan on making a couple of more in a slighty heavier weight knit. Hope you like what I've created too. All of these T-Shirts above were very easy and quick to make...I did them all this weekend when I finally had an opportunity to get some sewing in!!!
Thanks so much for stopping by!
Happy Sewing!