Two tops done last weekend!  One for me and the hubby.  I actually started working on one for him first, McCalls 6044.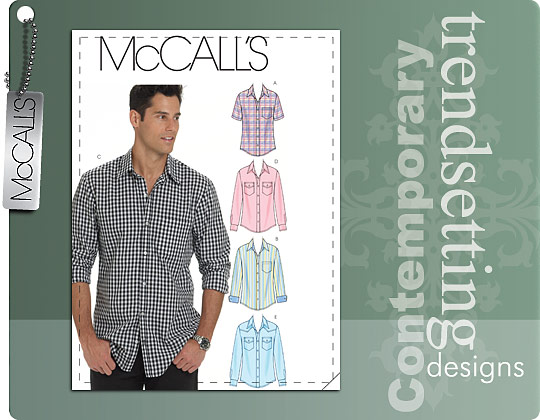 I really like this pattern and have made him a couple of shirts from it. (Sorry I haven't posted them)  It's easy to sew, but I did have to make a few alterations to the pattern before he had a great fit.  The standard size just didn't work for him.  I had to extend the sleeves by an inch and a half to accommodate my husband's longer arms.  I also had to add darts in the back because he likes his shirts more fitted, rather than a "boxy" look.  
I chose a brown and white Gingham check fabric I purchased from Michael Levine's online.  It's cotton with a little spandex which also helps greatly with the fit and comfort too.  With this shirt, I decided to make a contrasting collar band in a dark brown.  I also made a double button cuff just to make it a little different than the pattern.  All in all, he really likes this shirt a lot and so do I!
Hubby really does not have boobies! LOL!
To keep with the shirt theme for the weekend, I decided to make a shirt for myself too.  I selected Vogue 8772...
I made the sleeveless tunic (cream colored photo).  For fabric, I selected a chocolate brown 100% rayon woven from my stash.  I believe it was purchased from Joann Fabrics a little while back.  Now I have to say even I was shocked that this top fit me without any alterations!!!!  Especially using a woven fabric...that almost never happens!  But I am sure happy it did and I plan on making this a few more times too!
This is a really comfortable top!  I really do want to have a couple more in different colors.  
Thanks for stopping by, I have a few more things I need to post about coming up, so I have to get going!  
HAPPY SEWING!